Two words: Nailed. Me.
Well, except for the sports stuff. I am good at watching them sometimes though. I at least know the difference between a squeeze play, a zone defense, and a blitz. ;)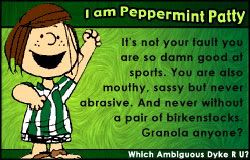 I'm Patty, which ambiguous dyke are you? Quiz by Turi.

Oh, and I hit 25,000 hits last week! Thank you to my Gainesville, FL visitor, whoever you are! You were my 25,000th hit!
Oh, and I stole the quiz from
fewthistle
.
Twoodles!
Erin
My State of Mind:
busy